Doctors of The World community outreach delivering results near Nea Redestos
Nea Redestos
Narration
December 14, 2016
A DotW team at one of Greece's newest refugee camps has been working to engage the community on issues which will help build trust between refugees, and safeguard and improve mental and physical health for all.
Vasilika refugee camp near Thessaloniki in Northern Greece, opened in the last week of June.
It houses 1,236 men, women and children – almost all Syrian and Iraqi, many of whom are from Kurdish areas of each state – and is situated in a disused warehouse a few km from the village of Nea Redestos, to Thessaloniki's south east.
DotW had a small medical team in place within hours of the camp's opening by the Greek government, but now has a 14-member team which delivers primary health care, sexual and reproductive health and mental health services to all refugees in need.
And the team has held the first of its community engagement sessions, at which more than 100 women discussed their needs, fears and problems with each other, and with the DotW team.
DotW field co-ordinator Konstantinidis Kostas commented: 'We invited the women to meet us in a friendly manner, not as a specifically medical thing. We welcomed them with food and drinks, so it was like a family house. Our interpreters and the community members we already knew really helped us by explaining how that could work and why it is a good approach.'
The meeting took place in an open-plan wooden shelter, where the women described their lives and their hopes, as well as their health needs.
DotW translator Popi Elntahan Apergi said: 'It was a chance for everyone to talk. We wanted to talk about what they wanted to talk about. One 13 year-old girl talked about her seven months here in Greece, talking about trying to get a smuggler to help her through to the Balkans as if it were normal, like she was describing playing with her friends.
'But we also showed them how to massage – feet, muscles, etc. It's important as it's an effective and simple way to reduce stress.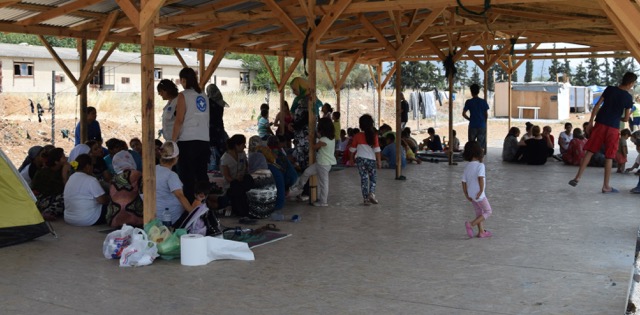 'We also introduced the women to Chaido, our psychologist. It's really important to remove the taboos that that role can carry.
'Because in Arabic the word psychologist translates directly to mean doctor for crazy people. So it's really important to help people know that we are here to help and that there is no shame in needing help in situations like this one.'
And the event was just the first the team plans in the coming weeks.
'We will also be running a personal hygiene campaign, which really helps reduce outbreaks of disease. These events are the perfect opportunity for these really useful and important – as it is also our way of meeting everyone properly – initiatives to take place. This is primary health care in action.'
*The program is funded by the European Union's Humanitarian Aid Department.